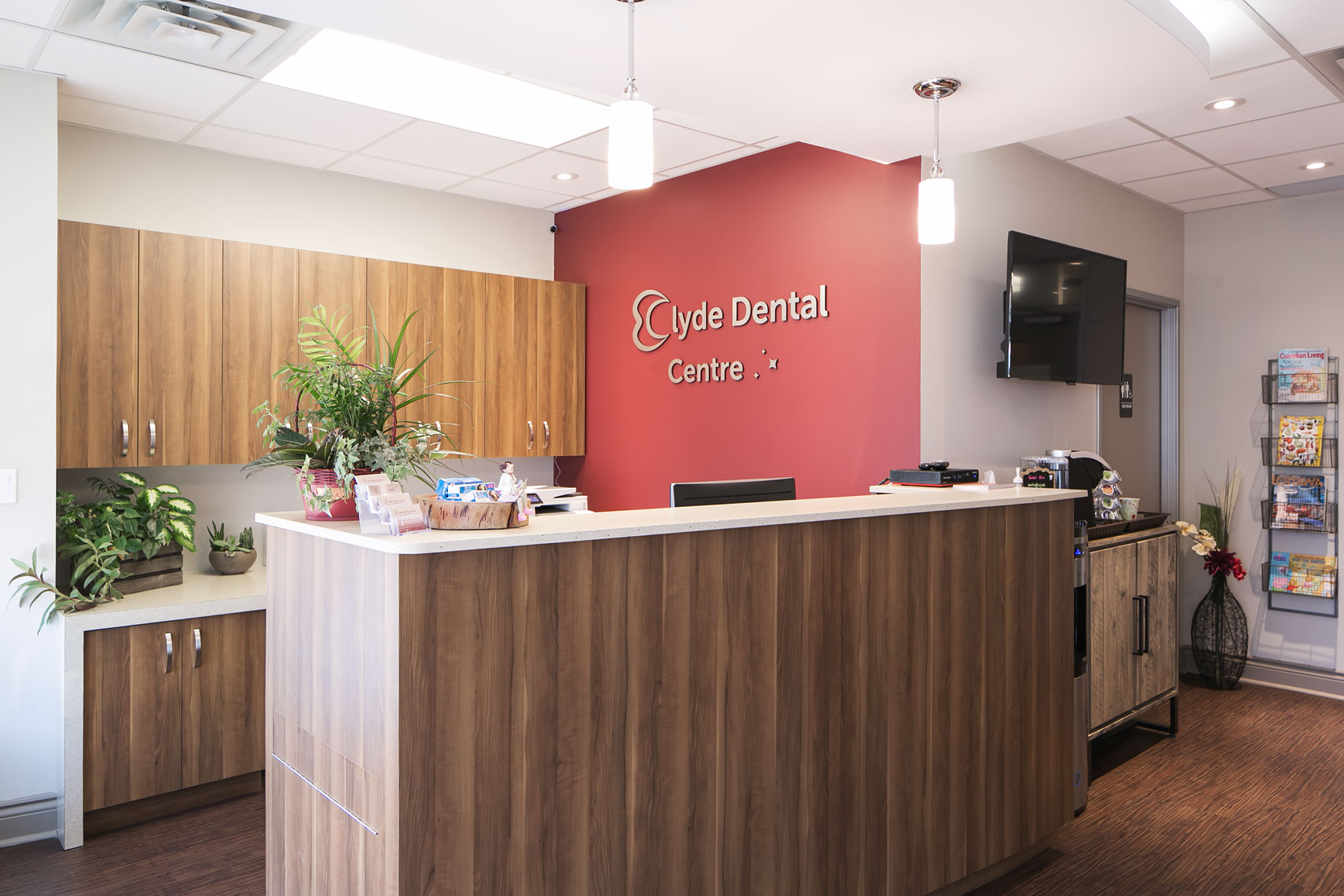 Clyde Dental Centre
Clyde Dental Centre is a full service, general dental practice providing care for patients of all ages. Drs. Sheila Sheth and Hania Quraishi are proud to have served patients in the Ottawa community for over twenty years and are thrilled to have a ground floor accessible office. We pride ourselves on delivering quality dental care and being sensitive to our patients' needs. The entire team at Clyde Dental wishes to make your experience a pleasant one and we look forward to welcoming you and your family to our clinic.
OUR SERVICES
We use a conservative approach to dentistry with a focus on preventative care and patient education.
DIAGNOSTIC
SERVICES
Complete oral exams and digital X-rays
PERIODONTAL SERVICES
Scaling, root planing, polishing and oral hygiene instruction
RESTORATIVE SERVICES
Fillings, crowns, implant-supported crowns, veneers
SLEEP APNEA DENTISTRY
Oral appliances for medically diagnosed cases of snoring and mild to moderate sleep apnea
HEALTHYSTART
Interceptive orthodontic treatment of young children with soft removable appliances, encouraging proper airway/jaw development while straightening teeth
ENDODONTIC
SERVICES
Root canal treatment
PROSTHODONTIC SERVICES
Replacing missing teeth with complete or partial dentures, bridges, and implant crowns
SIMPLE ORAL
SURGERY
Extraction of teeth
SEDATION
DENTISTRY
Nitrous oxide sedation for anxious patients
SOFT TISSUE LASER TREATMENT
Cold sores and apthous ulcers
ORTHODONTICS

Clear removable orthodontic aligners for minor movements
TECHNOLOGIES
We promise to work closely with you to create a personalized treatment plan that suits both your dental needs and your budget.
Digital x-rays expose patients and staff to significantly less radiation than traditional film x-rays.  They are also better for the environment because they do not require developing with harsh chemicals.  These x-rays can be viewed on a computer monitor within seconds of taking the image.  Our new Panorex machine has the capability to take "extra-oral bitewings" for those patients with a strong gag reflex.
Sometimes it may be difficult for a patient to fully understand the condition of their teeth.  An intra-oral camera can help you make an informed decision about your treatment and help you see for yourself what is happening in your mouth.
DIGITAL IMPRESSION SCANNER
We are equipped with 3Shape Trios technology which can accurately capture a complete image of your teeth in 3D.  If you have a strong gag reflex and do not like gooey impression material in your mouth, a digital impression will work for you in most cases.
We are proud to have the ZOLAR soft tissue laser at our clinic! 1-2 early treatments with this state-of-the-art dental device can help speed the healing time of a cold sore or mouth ulcer.  Other applications also include Low Level Laser Therapy (LLLT) for TMJ discomfort or tooth sensitivity.
Dr.Sheila Sheth
Dentist
Dr. Sheth is originally from the Ottawa area.  She graduated with honors from the Faculty of Dentistry, University of Toronto in 1992.  She subsequently completed a one-year GPR program at Toronto Western Hospital's dental clinic focusing on patient care with medical and physical disabilities.  After spending a few more years practising in the Toronto area, she relocated with her husband to Ottawa.  She has been in general dental practice in Ottawa since 1997, seeing patients of all ages.  She used to be a very busy hockey and soccer mom to her 2 children in their younger years.  Now with some more time on her hands, she enjoys traveling, golfing, tending the garden, catching the latest movies, and is always on the quest for interesting vegetarian recipes. Dr. Sheth strives to ensure that patients feel comfortable, confident and respected with their oral health and treatment decisions.
Dr.Hania Quraishi
Dentist
Dr. Hania Quraishi achieved her ultimate goal of becoming a dentist through an indirect route.  She holds a BSc from McGill University and a MSc from University of Toronto.  Upon realizing that she rather spend time with people, and not in a laboratory all day, Dr. Hania entered dental school and graduated from Western University.  She has practiced dentistry in the Ottawa area for over 20 years and her patients' comfort and positive experience is her top priority.  She is a busy mom to 3 children and enjoys movies, reading, baking, and Broadway shows.
Dr. Hania has a lifelong love of learning and continuing education and has a special interest in the field of dental sleep medicine.  She is a certified HealthyStart provider, an interceptive orthodontic treatment which encourages proper airway development in a young child while also aligning teeth. Dr. Hania is an Invisalign Provider and has completed a mini-residency in Clear Aligner Orthodontic Technique. She is also a proud Diplomate of the American Board of Dental Sleep Medicine and has been providing adjunctive care to sleep apnea patients for over 10 years.
Melonie
Melonie has been helping patients in the dental profession for over 22 years.  Always with a smile on her face, Melonie is the first person to greet you as our wonderful receptionist.  Always eager to improve her dental skills, she enjoys taking continuing education courses whenever she can. "You are never too old to learn new ideas".  In her spare time, you will find Melonie with her husband, daughter, and two dogs, relaxing at their home in the country.  Her hobbies include reading, cooking, lots and lots of yard work, working-out, and travelling.  Melonie also shares her time working at the electrical company which she and her husband own.
Sarah
Sarah has worked as a Level II dental assistant since she graduated from Algonquin College in 2011.  Sarah's calm and gentle nature helps put patients at ease.  She has a special interest in evolving dental technologies and products.  Along with chairside assisting, she also helps at reception.  Sarah's interests include hiking, travelling, and love of the outdoors.

Peggy
Peggy has been a dental assistant for over 25 years. She has a genuinely caring and nurturing personality and can make the most nervous patient feel calm. She enjoys all aspects of dentistry, but in particular she loves treating patients with sleep apnea and pediatric patients with the HealthyStart system alongside Dr. Hania. Peggy likes to spend her free time with family and friends, travelling, and enjoys walking her dog.

Raima
Raima graduated from Algonquin College as a Registered Dental Hygienist in 2011.  She received the Colgate Scholarship twice and was on the Dean's Honor List for superior academic standing while she was a student. She has a very kind and gentle temperament. She is extremely thorough but at the same time, her patients' comfort during their appointment is her top priority. Apart from work, she is a busy mom to 3 children and enjoys new food spots, entertaining, and spending quality family time.
Janna
Janna's medical career started as an oncology nurse in Moscow. Emigrating to Toronto, she graduated from the Canadian Businsess College as a Registered Dental Hygienist in 2007. In 2011, Janna moved to Ottawa. She has over 15 years of experience as a dental hygienist. She enthusiastically participates in continuing education and is a member of the Ottawa Dental Hygienist Society and the Canadian Dental Hygienist Association. Janna enjoys skiing, biking, and jogging on Ottawa's many trails and paths with her family. You can also find her at the local arenas watching her son play hockey or enjoying Ottawa's museums and cultural activities.
Cathy
Cathy grew up in the Belleville area and graduated from Loyalist College with a Social Service Worker Diploma.  She worked in the field primarily with special needs individuals for approx 20 years in the Belleville and Brampton regions.  Upon deciding to change  professions,  she and her family moved to Ottawa where she completed the Dental Hygiene Program at Algonquin College in 2003. After working in the dental hygiene profession for almost 20 years,  Cathy  enjoys meeting patients and assisting them with their oral health needs.  Cathy has been married for over 30 years and has 2 adult children. She enjoys puttering in her small garden, travelling, theatre, and spending time with family
Our ground floor clinic is fully accessible.
Interested in discussing?
| | |
| --- | --- |
| Monday | 8:00 - 4:30 |
| Tuesday | 8:00 - 4:30 |
| Wednesday | 8:00 - 4:30 |
| Thursday | 8:00 - 4:30 |
| Friday | By Appointment |
| Saturday | Closed |
| Sunday | Closed |
Screening Forms for Obstructive Sleep Apnea