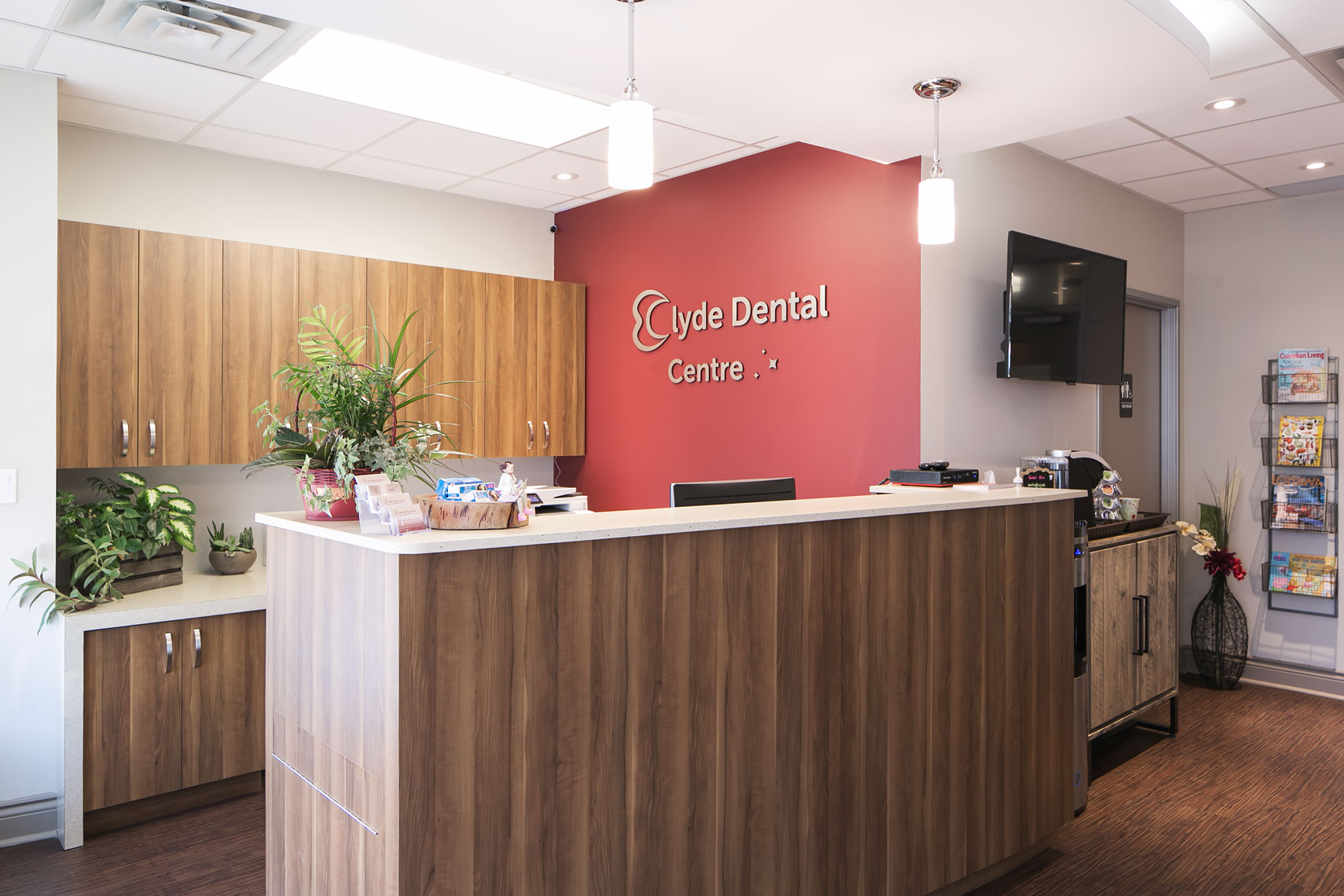 Clyde Dental Centre
Clyde Dental Centre is a full service, general dental practice providing care for patients of all ages. Drs. Sheila Sheth and Hania Quraishi are proud to have served patients in the Ottawa community for over twenty years and are thrilled to have a ground floor accessible office. We pride ourselves on delivering quality dental care and being sensitive to our patients' needs. The entire team at Clyde Dental wishes to make your experience a pleasant one and we look forward to welcoming you and your family to our clinic.
OUR SERVICES
We use a conservative approach to dentistry with a focus on preventative care and patient education.
DIAGNOSTIC
SERVICES
Complete oral exams and digital X-rays
PERIODONTAL SERVICES
Scaling, root planing, polishing and oral hygiene instruction
RESTORATIVE SERVICES
Fillings, crowns, implant-supported crowns, veneers
SLEEP APNEA DENTISTRY
Oral appliances for medically diagnosed cases of snoring and mild to moderate sleep apnea
ENDODONTIC
SERVICES
Root canal treatment
PROSTHODONTIC SERVICES
Replacing missing teeth with complete or partial dentures, bridges, and implant crowns
SIMPLE ORAL
SURGERY
Extraction of teeth
SEDATION
DENTISTRY
Nitrous oxide sedation for anxious patients
SOFT TISSUE LASER TREATMENT
Cold sores and apthous ulcers
OUR
 TECHNOLOGIES
We promise to work closely with you to create a personalized treatment plan that suits both your dental needs and your budget.
Digital x-rays expose patients and staff to significantly less radiation than traditional film x-rays.  They are also better for the environment because they do not require developing with harsh chemicals.  These x-rays can be viewed on a computer monitor within seconds of taking the image.  Our new Panorex machine has the capability to take "extra-oral bitewings" for those patients with a strong gag reflex.
Sometimes it may be difficult for a patient to fully understand the condition of their teeth.  An intra-oral camera can help you make an informed decision about your treatment and help you see for yourself what is happening in your mouth.
DIGITAL IMPRESSION SCANNER
We are equipped with 3Shape Trios technology which can accurately capture a complete image of your teeth in 3D.  If you have a strong gag reflex and do not like gooey impression material in your mouth, a digital impression will work for you in most cases.
We are proud to have the ZOLAR soft tissue laser at our clinic! 1-2 early treatments with this state-of-the-art dental device can help speed the healing time of a cold sore or mouth ulcer.  Other applications also include Low Level Laser Therapy (LLLT) for TMJ discomfort or tooth sensitivity.
Dr.Sheila Sheth
Dentist
Dr Sheth is originally from the Ottawa area. She graduated with honors from the Faculty of Dentistry, University of Toronto in 1992. She subsequently completed a one year GPR program at Toronto Western Hospital's dental clinic focusing on patient care with medical and physical disabilities. After spending a few more years practising in the Toronto area, she relocated with her husband to Ottawa. She has been in general dental practice in Ottawa since 1997. When not at the clinic, she is a busy hockey and soccer mom to her 2 children. She enjoys traveling, staying active, catching the latest movies, and is always on the quest for interesting vegetarian recipes. Dr Sheth strives to ensure that patients feel comfortable, confident, and respected with their oral health and treatment decisions.
Dr.Hania Quraishi
Dentist
Dr Hania Quraishi achieved her ultimate goal of becoming a dentist through an indirect route. She holds a Bachelor of Science from McGill University and a Masters of Science from University of Toronto. Upon realizing that she rather spend time with people and not in a laboratory all day, Dr Hania entered dental school and graduated from Western University. Since 1999, she has practiced dentistry in the Ottawa area and is thrilled to open an accessible dental clinic to continue providing care to her patients. When not working, Dr Hania is equally busy chauffeuring her three children to and from their numerous activities like karate and vocal/musical theatre rehearsals. She enjoys movies, reading, baking, and Broadway shows. Her patients' comfort and positive experience is her top priority. She has a lifelong love of learning and continuing education and has a special interest in the field of dental sleep medicine. Dr. Hania has a Qualified Dentist designation with the American Academy of Dental Sleep Medicine.
Lisa
Lisa started her dental career as a dental assistant in 1986 and then went on to complete dental hygiene at Algonquin College in 1988.  She has worked in the Ottawa area as a hygienist for 24 years.  She also teaches clinical dental hygiene at Algonquin College.  Lisa volunteers as the chair person for Oral Health, Total Health, an organization that brings awareness of dental health to people in our community with special needs.  An inclusive environment is important to Lisa and she has gained experience working at the Ottawa Civic Hospital in the Special Needs Clinic and providing dental care at St. Vincent's hospital and at the Youth Service Bureau.  In her spare time, Lisa enjoys spending time with her family, biking, hiking, golfing, and travelling to Northern Ontario to visit family on the north shore of Lake Superior in Sault Ste. Marie.
Rosanna
Rosanna comes from an Italian and Polish family but was born and raised in Ottawa, Ontario. She studied Dental Assisting Level I and II at Algonquin College having received the Queen Elizabeth Scholarship. Rosanna chose to further her education by pursuing Dental Hygiene at the Canadian National Institute of Health, graduating in 2012 with honours.  She loves travelling, sports, and going to the cottage.  She is very friendly and her strong interpersonal skills enable her to communicate well with people in both English and French.  Rosanna takes pride in providing the best overall care for her patients and promoting heathy oral hygiene.
Erin
Erin is a recent graduate from the Dental Hygiene program at Algonquin College.  She graduated in 2016 and was the recipient of the Hu-Friedy Golden Scaler Award for providing excellent clinical care.  Erin volunteers alongside Lisa for the Oral Health, Total Health organization.  While she provides dental hygiene care, Erin makes you feel at home with her easygoing nature.  On her days off, Erin enjoys anything outdoors as well as spending time on her hobby farm outside the city.
Melonie
Melonie has been helping patients in the dental profession for over 22 years.  Always with a smile on her face, Melonie is the first person to greet you as our wonderful receptionist.  Always eager to improve her dental skills, she enjoys taking continuing education courses whenever she can. "You are never too old to learn new ideas".  In her spare time, you will find Melonie with her husband, daughter, and two dogs, relaxing at their home in the country.  Her hobbies include reading, cooking, lots and lots of yard work, working-out, and travelling.  Melonie also shares her time working at the electrical company which she and her husband own.
Sarah
Sarah has worked as a Level II dental assistant since she graduated from Algonquin College in 2011. Sarah's calm and gentle nature helps to put patients at ease. Along with chairside assisting, she has a special interest in evolving dental technologies and is our resident expert for the digital impression scanner. Sarah's interests include hiking, travelling, and love of the outdoors.

Peggy
Peggy has been a dental assistant for over 25 years.  She has a genuinely caring and nurturing personality and can make the most nervous patient feel calm.  Peggy likes to spend her free time with family and friends, traveling, and enjoys walking her dog.
Our ground floor clinic is fully accessible.
Interested in discussing?
| | |
| --- | --- |
| Monday | 8:00 - 4:30 |
| Tuesday | 8:00 - 4:30 |
| Wednesday | 8:00 - 4:30 |
| Thursday | 8:00 - 4:30 |
| Friday | By Appointment |
| Saturday | Closed |
| Sunday | Closed |
Screening Forms for Obstructive Sleep Apnea